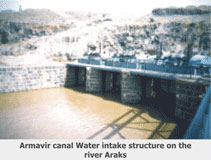 Co-operating with the World Bank, in 1993-1994 the company developed Armenia Irrigation Rehabilitation Project and in 1995-2003 provided design works, included in the Project. In 1997-2006 on the assignment of the World Bank within the Armenia Dam Safety Project the company implemented geological, topographic survey, study of technical conditions for 44 dams in the republic, as well as provided rehabilitation and safety designs for hydro-schemes and construction supervision.

In 2000-2004 on the assignment of the USA Agricultural Department the company developed over 100
designs of new deep wells and gravity conduits for water supply of some settlements in the republic, concurrently carrying out studies of technical conditions, topographic, hydrological, hydro-geological investigations for springs, capture structures and deep wells.

In 2004-2006 on the assignment of the Republic of Mountainous Karabagh designs of some dams, gravity water supply conduits, small hydropower plants in the region and feasibility studies for water supply and sewerage system of Stepanakert town were carried out. At present the company is involved in tenders on design works of irrigation projects, envisaged by the Millennium Challenges Account-Armenia Program.