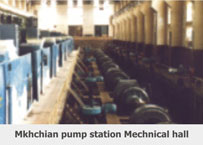 All the large irrigation systems, currently operated in the republic in the area of 320 thousand ha, among them the Arzni-Shamiram, Artashat, Shirak, Armavir, Hoktemberyan, Talin, Kotayk and others, were designed by the company. Along with the comp¬lexes of irrigation systems townships with residential and industrial houses with all service lines were designed as well.

By developed projects of the company over 60 large and small reservoirs were constructed, including the largest in the Republic of Armenia Akhouryan reservoir with 525 million m3 capacity, having international importance, Azat, Arpilich, Aparan reservoirs and others.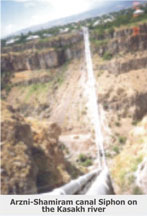 More than 450 pumping stations with capacity up to 24 MWt in complicated relief conditions have been designed, including multistage stations with their pressure pipelines and power supply lines. For improvement of reclamation conditions for more than 50 thousand ha lands in the Ararat and Shirak valleys collector-drainage systems have been designed and constructed, projects and designs have been developed for reclamation of 5 thousand ha of saline lands in the Ararat valley. Designs of bank-protecting structures have been developed on some rivers of the Republic of Armenia, including the boundary Arax River, for protection of riverside settlements and territories against floods. In 2002–2004 the company designed some water supply conduits, daily regulation reservoirs, rehabilitation designs of pumping stations for potable water supply and sewerage systems were developed for Yerevan city and other settlements.
Mapping of main pipelines supplying Yerevan city (nearly 500km long) and study of technical conditions were carried out.

The design works on protection of sanitary zones of water supply systems in the Republic of Armenia, taking into consideration the environmental requirements, were implemented in 2005.